Apple has been awarded yet another patent for a foldable device, with the latest embodiment featuring a clamshell chassis with touch-sensitive areas that serve as virtual buttons (via CNBC).
Filed by Apple in April 2021 and approved this week by the U.S. Patent and Trademark Office, the new patent explores ideas for "Electronic Devices With Display and Touch Sensor Structures" and envisions how parts of a device could work as input surfaces to augment the display or for use when the display is folded up.
In one example, the patent describes how display layers and touch sensor layers could be "overlapped" in a device's outer panels, and how the touch sensors could go under a glass layer along the front, bottom, and "curved sidewalls" of a device, suggesting the potential for touch input across the entire outer chassis of a clamshell-style enclosure.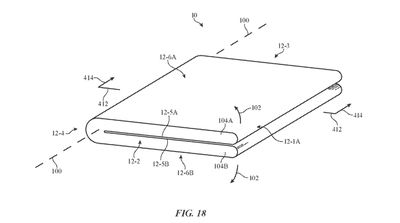 Elsewhere in another example, the patent describes "wrapping a display around some or all of the device," where the curved sidewalls would house touch-sensitive layers, allowing them to work as camera controls, volume sliders, and other functions.
The patent is fueling fresh speculation that Apple's first foldable device is getting nearer to launch. The company has been working on foldable display technology for some years now, filing multiple foldable-related patents. Analyst ‌Ming-Chi Kuo‌ said last year that Apple is actively testing a foldable display, although he believes Apple's first foldable device may be a hybrid ‌iPhone‌ and ‌iPad‌, or simply a foldable ‌iPad‌. More recently, Kuo said that Apple is preparing to launch a foldable iPad with a carbon fiber kickstand in 2024.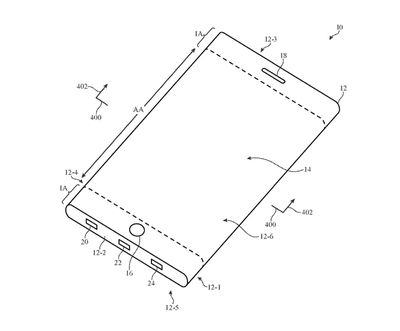 Display analyst Ross Young said last year that Apple's long-rumored foldable ‌iPhone‌ has been delayed until 2025. The news of the delay reportedly came after discussions with supply chain sources, suggesting that Apple has been conducting due diligence to ascertain the viability of bringing such a product to market anytime soon.
Popular Stories
All-New Apple CarPlay Launching This Year Starting With These 14 Car Brands
In June 2022, Apple previewed the next generation of CarPlay, promising deeper integration with vehicle functions like A/C and FM radio, support for multiple displays across the dashboard, personalization options, and more. Apple says the first vehicles with support for the next-generation CarPlay experience will be announced in late 2023, with at least 14 automakers committed so far. Comm…
Apple Releases iOS 16.3.1 With iCloud Fix, Crash Detection Optimizations and More
Apple today released iOS 16.3.1, a minor update for the iOS 16 operating system that first came out in September. iOS 16.3.1 comes over two weeks after the launch of iOS 16.3, an update that added Security Keys for Apple ID and support for the new HomePod. ‌iOS 16‌‌.3.1 can be downloaded on eligible iPhones and iPads over-the-air by going to Settings > General > Software Update….
iOS 16.3.1 Breaks Google Photos App [Fixed]
The iOS 16.3.1 update that was released today appears to be causing issues with Google Photos, so iPhone and iPad owners who use Google Photos should probably avoid updating. Multiple reports on social media complain about the issue, which The Verge also highlighted. It appears that the Google Photos app is crashing instantly when iPhone and iPad users attempt to open it after upgrading to…
Apple Working on Whole New Way to Use iPad at Home
Apple has worked on a docking accessory for the iPad that would allow users to transform the device into a smart home display, similar to Google's approach with the Pixel Tablet, according to Bloomberg's Mark Gurman. Earlier this year, Google announced that it will offer a charging dock for the upcoming Pixel Tablet that allows it to transform into a smart home display like the Nest Hub and…
15-Inch MacBook Air Rumored to Launch in April as Display Production Begins
Apple's supply chain started production of display panels for a new 15.5-inch MacBook Air this month, according to display industry analyst Ross Young, who has a very good track record with rumors about future Apple products over the past few years. In a tweet shared with his subscribers today, Young said he expects the new MacBook Air to launch in "early April" given that display production …
iPhone 15 Pro Again Rumored to Feature Ultra-Thin Bezels Like Apple Watch
The next-generation iPhone 15 Pro and iPhone 15 Pro Max will feature even thinner bezels around the display, similar to the Apple Watch Series 7 and newer, according to an anonymous leaker known as "ShrimpApplePro" on Twitter. In a tweet this week, ShrimpApplePro said additional sources now agree that iPhone 15 Pro models will have thinner bezels following the initial rumor last month. The…
Apple Reportedly Planning to Limit iPhone 15's USB-C Port in the Same Way as Lightning
The iPhone 15 and iPhone 15 Pro's USB-C port and accompanying charging cables will feature a Lightning-like authenticator chip, potentially limiting their functionality with Apple-unapproved accessories, a rumor shared on Weibo suggests. The rumor declares that Apple has developed its own variant of USB-C for this year's iPhone 15 lineup and comes from a user who claims to be an integrated…